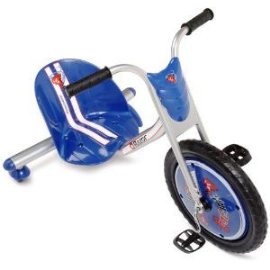 My brother got this Razor tricycle for his birthday and it's pretty awesome because you can spin donuts and turn quick the way the back wheels are setup independent. It's really cool if you don't have one try and ride one sometime.
Razor Rip-Rider 360 Drifting Ride-On Review –
Pros: Fun to ride, easy to assemble, durable, fast.
Cons: The bolts that hold the seat together loosen and can fall out. You can get replacements at your local hardware store if you lose any like we did.
Razor Rip-Rider 360 Drifting Ride-On Review